Our Lady of Fatima: The Graphic Novel
Product Code: 9780999452004
---
---
---
Product Description
•••••
It all started one hundred years ago in an peaceful village in Portugal. And it began with three shepherd children...
In this thrilling, action-packed Graphic novel, you'll meet Jacinta, Francisco, and Lucia, and re-discover the events that took place when Our Lady appeared to them in Fatima.
Taking a trip back in time with the beautiful full-color pages, you will learn about the times the children were visited by an Angel, the time they were sent to jail, and what really happened at the Miracle of the Sun.
This new commemorative, hardbound book helps the reader to visualize the heavenly apparitions, while challenging the reader to apply the messages of Our Lady in this day and age.
For we know the message of Fatima is 'relevant now more than ever' (Pope St. John-Paul II, May 13, 1982).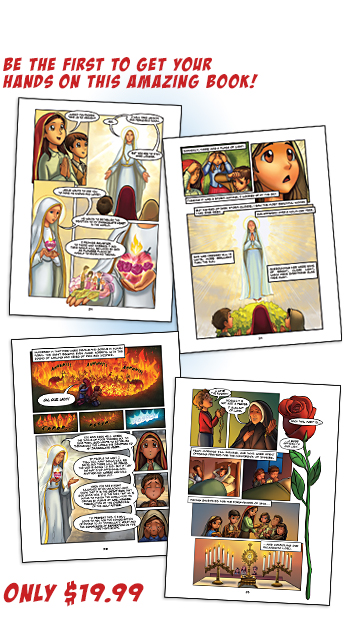 Reviews
•••••
---
Login
to review this product. We offer a 1% discount with each review - up to a max of 2 reviews or 2% discount per order. Your invoice will be manually adjusted upon the verification of your reviews. Thank you for supporting our Catholic Apostolate.